For thirty years, the Minnesota Book Awards have recognized the best in writers, illlustrators, and book artists who are Minnesotans.
Last Saturday evening in downtown St. Paul at the Intercontinental Hotel Riverfront, more than 800 people attended the awards ceremony emceed by Rohan Preston, theater critic for the Minneapolis Star-Tribune.
With more than 250 books submitted for the annual award, a panel of judges narrowed it down to four finalists across eight categories in January.
Carolyn Porter, for Marcel's Letters, had been named a finalist in the category of Memoir and Creative Nonfiction. On Valentine's Day, she gave a talk at the Hamline Midway Library as part of the Fireside Reading Series which highlights the work of the finalists for the Minnesota Book Awards. The awards are sponsored by Education Minnesota and presented by the Friends of the St. Paul Public Library.
There are too few moments in an author's career when you receive critical acclaim and professional affirmation. I encourage you to grab these moments when you can. When your book is a finalist in a prestigious award category, it's appropriate to pop the champagne and celebrate. Even if it doesn't take first place, it's still a winner.
Deeply touched to have been invited to join Carolyn Porter and her husband, Aaron, for the awards ceremony, I enjoyed the evening and the chance to meet so many literary artists in one place at one time.
The full list of winners in all categories of the Minnesota Book Award can be found here.
Give a Girl a Knife  by Amy Thielen (Clarkson Potter/Crown Publishing)
"Before Thielen frantically plated rings of truffled potatoes in some of New York City's finest kitchens, she grew up in a northern Minnesota town, home to the nation's largest french fry factory, the headwaters of the fast-food nation, with a mother whose generous cooking dripped with tenderness, drama, and an overabundance of butter. Like a magnet, the foods of her youth draw her back home, where she comes face-to-face with her past and a curious truth: that beneath every foie gras sauce lies a rural foundation of potatoes and onions. Thielen is the author of the James Beard Award-winning cookbook The New Midwestern Table and was the host of "Heartland Table" on Food Network. She now speaks and writes about home cooking and is a contributing editor at the magazine Saveur."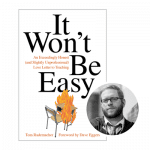 It Won't Be Easy: An Exceedingly Honest (and Slightly Unprofessional) Love Letter to Teaching  by Tom Rademacher (University of Minnesota Press*)  
"Rademacher wishes someone had handed him this sort of book along with his teaching degree: a clear-eyed, frank, boots-on-the ground account of what he was getting into. But first he had to write it. And as 2014's Minnesota Teacher of the Year, Rademacher knows what he's talking about. Pulling no punches (and resisting no punch lines), he writes about establishing yourself in a new building; teaching meaningful classes; keeping students a priority; investigating how race, gender, and identity affect your work; and why it's a good idea to keep an extra pair of pants at school. It Won't Be Easy captures the experience of teaching in all its messy glory. Rademacher is an English teacher in Minneapolis. His writing has appeared in EdPost, MinnPost, and on his blog, Mr. Rad's Neighborhood."
Marcel's Letters: A Font and the Search for One Man's Fate  by Carolyn Porter (Skyhorse Publishing)
"Seeking inspiration for a new font design in an antique store in Stillwater, Minnesota, graphic designer Porter stumbled across some old letters and was immediately drawn to the beautifully expressive pen-and-ink handwriting. She could not read the letters – they were in French – but she noticed they had been signed by a man named Marcel and mailed from Berlin to France during the middle of World War II. Marcel's Letters is the incredible story of her search to uncover the mystery of Marcel Heuzé's fate while simultaneously developing the font that would bear his name, immortalizing the man and his letters that waited years to be reunited with his family. Porter is a graphic designer and self-professed typography geek who designed the award-winning P22 Marcel Script."
Onigamiising: Seasons of an Ojibwe Year  by Linda LeGarde Grover (University of Minnesota Press*)
"Long before the land at the western tip of Lake Superior came to be known as Duluth, it was known to the Ojibwe as Onigamiising, "the place of small portage." There, the Ojibwe lived in keeping with the seasons, moving among different camps for hunting and fishing, cultivating and gathering and harvesting wild rice and maple sugar. In 50 short essays, Grover reflects on the spiritual beliefs and everyday practices that carry the Ojibwe through the year and connect them to this northern land of rugged splendor. Grover, a member of the Bois Forte Band of Ojibwe, is an author and professor of American Indian studies at the University of Minnesota Duluth."
The Minnesota Book Award in this category went to Linda LeGarde Grover for Onigagmiising.
Each one of these is a fantastic read and I highly recommend them all. Congratulations to Linde LeGarde Grover and to three finalists.